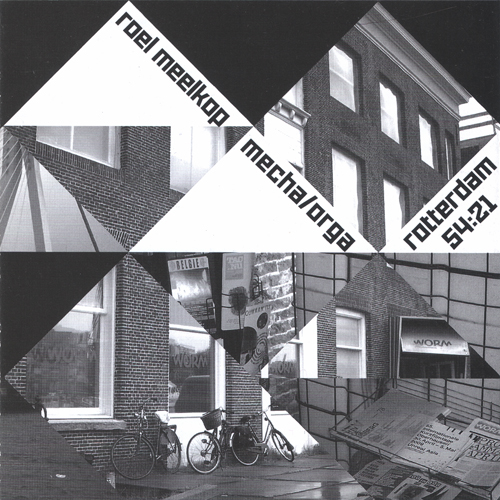 Rotterdam 54:21
ROEL MEELKOP, MECHA / ORGA -Yiorgis Sakellariou-
(Monochrome Vision 2012)
Review by Flavién Gillie
Ce disque paru chez Monochrome Vision en 2012 est le témoignage d'une rencontre entre deux artistes, Roel Meelkop et Mecha/Orga lors d'une résidence au studio WORM, occasion pour eux d'explorer la ville de Rotterdam ainsi que les synthétiseurs analogiques du studio.
Trois pistes d'écoute, commençant par un duo, puis deux soli.
Tout commence par la ville, ce qui l'irrigue, ce qui la fait croître. Un chantier dont on imagine qu'il fera vite place nette pour un nouveau bâtiment. C'est une trace audible qui va progressivement s'effacer pour explorer des espaces moins accessibles, un manifeste de la zone grise en quelque sorte. Roel Meelkop et Mecha/Orga vont dès lors quitter le naturalisme pour ne plus que laisser place au souffle et à la pulsation, le passage des voitures deviendra fluctuation, trace fugace avant la disparition. On pourra dès lors parler d'usure, d'un silence qui n'en est bien sûr pas un, puisqu'en ville rien ne repose jamais vraiment, dès lors même le quasi silence peut devenir témoignage, comme une référence lointaine, spectrale et évanouie. La fin du morceau en  duo est un crescendo de crépitements magnétiques, sans doutes issus des synthétiseurs, venant parfaitement faire s'effondrer l'audible, les derniers vestiges d'un exploration urbaine, avec toujours plus de force, toujours plus de monotonie, on pense à une porte qui se referme, assurément sans espoir.
La deuxième pièce est un solo de Roel Meelkop, dont on connait son activisme dans la musique industrielle de Kapotte Muziek et GOEM entre autres. Si le souvenir de GOEM évoque plutôt une rigueur métronimique, on est plutôt ici dans la résonance froide, le murmure de la ville au petit matin. Les tensions sont palpables, on frôle parfois le silence, rarement. C'est plutôt une rumeur qui désenfle, comme un passage de l'extérieur vers un intérieur dont on n'oserait cependant pas dire qu'il est peut-être accueillant. Non, c'est ici simplement un lieu possible, rendu possible par la ville, faisant écho à celle-ci, une re-création réussi d'un environnement longuement éprouvé.
L'album se clôture avec un solo de Mecha/Orga, une pièce où l'artiste nous rappelle ici combien l'écoute est importante. Le morceau se construit par seuils, des cloches, marqueurs intemporels de notre civilisation viennent trouver une place dans un paysage mécanisé, somme toute banale, et pourtant magnifié par l'écoute de l'artiste. Le final agit comme un mantra, une scansion, rythme obsédant, témoignage réussi du preneur de son face à la déshumanisation d'un travail machinique.
Le silence qui suit l'écoute de cet album agit comme une continuation, on se sent encore nimbé de ces ambiances, est-ce le chantier au loin qui s'infiltre malgré les fenêtres fermées? C'est assurément la preuve d'une collaboration réussie, où si chaque artiste parvient à conserver son identité propre, il montre aussi qu'il sait faire place à la reconnaissance de l'autre.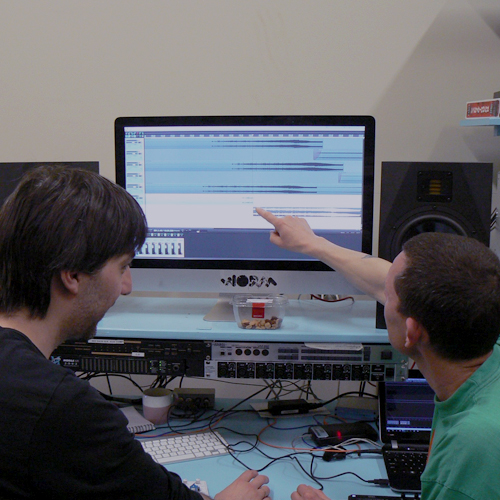 [Yiorgis Sakellariou left, Roel Meelkop right]
Translation to English -by Sismophone-
This disc, released by Monochrome Vision in 2012, witnesses to the encounter between two artists, Roel Meelkoop and Mecha/Orga during a residency at WORM Studio, an occasion for them to wander through Rotterdam and probe the analog synths of the studio.
Three tracks, a duo and two soli.
It all starts with the city, what irrigates it, what makes it grow. A worksite meant to quickly disappear to make a new building appear. This is an audible trace that progressively faints to explore less accessible territories, a sort of manifesto of the grey zone. Roel Meelkoop and Mecha/Orga are then quitting naturalism only for blow and pulsation, cars passing becomes a fluctuation, fleeting before disappearance. One can evoke wear, a silence that is of course not silent, as in a city, nothing really rests, and then, this quasi-silence can testify, as a remote reference, spectral and evanescent. The end of the duo track is a crescendo of magnetic craklings, most likely issued from the synths, perfectly crushing the audible, last remains of an urban exploration, with always more strength, always more monotony, this recalls a door closed on hope.
The second piece is a solo by Roel Meelkoop, whose activism in industrial music through Kapotte Muziek and GOEM is famous. If the memory of GOEM is mostly linked to metronomic rigour, one rather feels here some cold resonance, the city murmur at dawn. Tensions are tangible, one sometimes skims silence, rarely. It is more a deflating rumour, as a passage from oustide to an inside that no one would dare to qualify as welcoming. No, this is only a possible place, made possible by the city, echoing with it, a successful re-creation of a long worn environment.
The disc ends with a solo by Mecha/Orga, a piece with which the artist recalls to us how listening is important. The track constructs with thresholds, bells, eternal markers of our civilization finds a place in this mechanized landscape, afterall commonplace, though magnified by the artist's listening. The final acts as a mantra, a scansion, obsessing rhythm, well done testimony of the sound recordist facing the dehumanization of mechanical work.
Silence after listening this album is like a continuum, one still feels haloed with these ambiences, is it the remote worksite that infiltrates in spite of closed windows? Assuredly this is the proof of a successful collaboration, where each artist manages to keep it's own identity, and at the same time gives space to the other's gratitude.
Roel Meelkop website
Yiorgis Sakellariou website
Monochrome Vision website