Tracing a boundary. DEVIN DISANTO
(Task 2013)
Review by Flavién Gillie
Que devient le groupe quand il ne joue pas?
Devin Disanto publie un disque audacieux, à la forme surprenante, ainsi sur la pochette peut-on lire la liste des artistes et leur rôle instrumental, Trompette, trombone, ukulele et j'en passe.
L'artiste enregistre, ils sont bien là, mais ils ne jouent pas encore, ils s'affairent dans une pièce, fenêtre ouverte dont on entend la circulation de l'extérieur. Des harmoniques de guitare apparaissent, quelques ultra-sons, une voix indique des durées, peut-être le temps qui passe, peut-être le compte à rebours. Et tout s'agence, vers une impossible mise en musique, comme un travail documentaire préalable à la création musicale, ce document sonore éliminant de par son existence la nécessité de jouer.
Une situation d'intimité se crée tout le long de l'album, l'écoute est dynamisée par la mise en forme des déplacements des musiciens autour des microphones, chacun devient son instrument, souffle de l'air ou corde effleurée, tout prend sa place dans l'espace du lieu.
Le disque fini nous nous retrouvons dans notre environnement, avec un sentiment de sérénité, l'impression d'avoir été à l'essence de la rencontre, au coeur de la vie.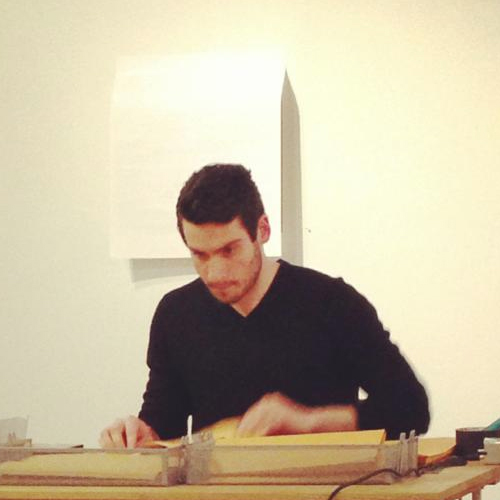 [Devin Disanto]
Translation to English -by Sismophone-
What becomes a band when it does not perform?
Devin Disanto issues a daring album, with a surprising form, as one can read on the sleeve a list of artists and their instrumental role, trumpet, trombone, ukulele, and so on.
The artist records, they are there for real, but they still do not play, they wander nearby in a room with an empty window through which one hears outside circulation. Guitar harmonics appear, some ultrasounds, a voice drones durations, maybe the time flying, maybe the countdown. And then all builds towards an impossible musicality, as a preliminary documentary work previous to musical creation, and exactly because it exists, this sound document eliminates the necessity of playing.
A situation of intimacy is created all along the album, listening is dynamited by the shaping of musicians moves around microphones, each becomes it's own instrument, blow of air or brushed string, everything is placed in the place's space.
At the end of the disc, we are safely back in our environment, feeling serene, an impression to have gone to the essence of the meeting, at the heart of life.