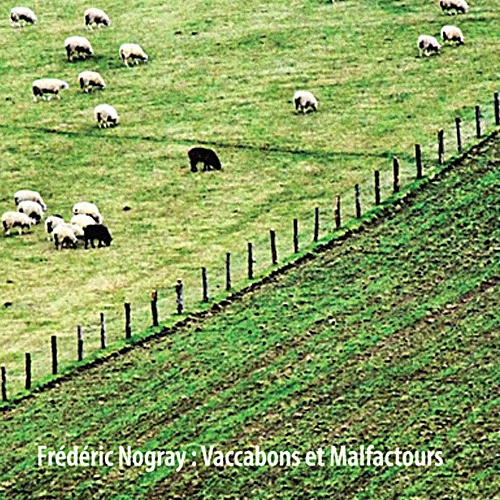 Vaccabons et malfactours
FRÉDÉRIC NOGRAY -working with recordings by Cédric Peyronnet-
(Kaon 2013)
Review by David Vélez
I
There is a strong level of intention in the action of recording environmental sounds. This intention is expressed in aspects like the subject of the recording, the kind of microphones used, the place where the microphones are placed in the field, the hour of the day chosen to record, the time of the year where the recordings were made…etc…etc….
But at the same time recording environmental sounds is a very contemplative action; on every environmental recording we are capturing seconds, minutes and hours of incidental randomness.
But, what makes for random and organic textures, patterns and structures to be so potentially appealing? This is a good question that Psychoacoustics have in a way answered, linking for example the songbirds with the origins of human language. I personally think that the lack of communicating purpose and intention that we find in these random forms is actually what makes them appealing and even meaningful. The absence of ideas and words in their forms allows the listener to explore things in a different way, leading him to bear a more universal and yet personal sense of things.
II
'La Rivière CD series…Using the sound bank designed by Cédric Peyronnet, who recorded the nuances of Taurion River and its valley for 3 years, in Limousin, sound artists offer their interpretations through a series of compositions. Artists were asked to work on the composition of a sound piece created using the provided recordings or on the composition of a sound piece inspired by listening to the sound provided and consultation of the accompanying documents.'
-From Kaon's website
Frédéric Nogray has established today as one of the notable sound composers working with untreated recordings of wild life and other natural areas, but in 'Vaccabons et malfactours' (part of 'La Riviere' series) Nogray limited to equalize, edit and layer preexistent recordings captured by Peyronnet six years ago.
This is a very nice release that, despite of the potential layering, presents itself in an austere documental manner, sounding very realistic and believable.
The area around the Taurion river is probably very quiet and soothing as most of the recordings suggest but Nogray also included recordings that show a louder and harsher aspect of this location; the noisy captures probably belong to heavy rain or a fast-flowing part of the river and these sounds add a great sense of contrast to the piece. There is always a level of eeriness and darkness to a quiet place that, when taken into account, offers depth and mystery to the listener's experience.
The quality of the sound here is noteworthy, the fine sounds captured by Peyronnet were greatly worked by Nogray who managed to bring out the textures to a very bright and crisp level that I greatly enjoyed; a great work for those interested on environmental recordings with a little fictional twist.
[Fréderic Nogray]