Sirène. ROBERT CURGENVEN
(Recorded Fields Editions 2014)
Review by Daniel Crokaert
After a substantial succession of performances and being on the road a lot, ever training his made-to-measure audio-guerilla set, Robert Curgenven is back with a monstrous striking new opus : "Sirène". This is the result of a 4 year patient gestation, and concern for approaching a state of sheer engulfing sound energy, as well as offering a reflection of his past as a confirmed organist.
Pushing field recordings in further subversive recesses through a mise en abime, main source material is 16-foot pipe organs played and recorded by him in various churches in Cornwall.
Photos on the sleeve are self-eloquent about the mood of the work.
On the back cover, a William Turner's rather well-known painting "Snow Storm. Steam Boat Off a Harbour's Mouth…" which fed the figment according to which the painter tied himself to the mast of a steam ship at night to observe extreme meteorological conditions.
…A tormented sea, a true conspiracy of the elements, a sense of immediate palpable danger…
Front cover depicts a far more personal story, it's a premonitory find : an old photo of Curgenven's grandfather surfing circa 1920.
…A dark blanket of chalky grooved waves, fierce foam and endless ripples, a ghost figure in equilibrium, the vertigo of infinity…
…A tremendous snapshot…
Then comes the title "Sirène" : an alarm device or much more likely the mythical creature seducing lost sailors to lure them into the abyss…And YES, "Sirène" is abyssal, displaying an enormous force at work…actually, I've been told it came to fruition almost incidentally while remixing some parts of the material for a second LP to be released later this year, and based upon Curgenven's vision of a desecrated , dislocated Australian land.
On side A, "Ressuscitant de l'étreinte de la Sirène" starts with an insidious plaintive call surfacing from the marine depths, and colliding with the oceanic drizzle…cracked scum…"Cornubia" rubs it in. A relentless sweep upwards where scoria of organ overtones pulled from remote layers surge to encounter the outlines of a new world…
Curgenven propels sounds across long chimneys of distress, into the open space, searching for a physical clash, increasing the feeling of pressure, sucking you into a vortex of vivid sensations…
No futile decoration, no hollow effects, total submersion where one has to worm his way into a falsely dense compact core. A navigation upstream, straight to the source of some essential momentum…
Again, no frontiers or clear limits, but a scheme where the body undergoes, the eardrums vibrate, the mind travels an arid yet pregnant territory…
On side B, there's the return of a lamentation dotted with minimal textural audio-debris and eroding hiss to pierce the shell of any indifference.
A perfect distillation and primal penetration through a cluster of organ dronal tentacles…
"Sirène" warns as much as it stimulates, a vital clatter not for the faint hearts, and when a short pause of near silence bursts in, the next last notes resound like  an omen for all ravaged lands.
"Sirène" is all about the unseen, the flow below…it sculpts a mass generating its own spectral harmonics,
acting as a powerful relay – an intensity one cannot escape…a lifeline…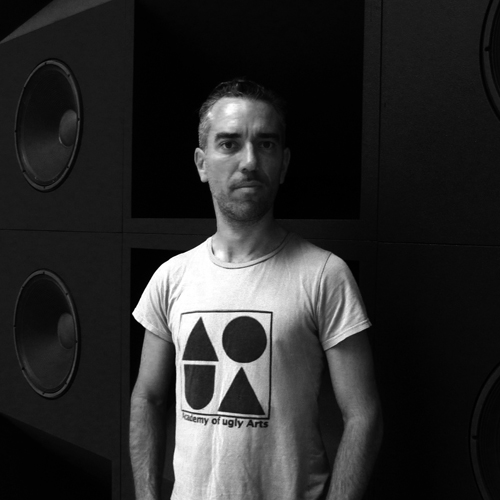 [Robert Curgenven]
– Translation to French-
Après une non negligeable série de concerts et de tournées, affinant sans cesse son set de guérilla-audio, Robert Curgenven est de retour avec un monstrueux et marquant nouvel opus : "Sirène". Résultat d'une patiente gestation de 4 ans, et d'un souci d'approcher un état de pure engloutissante énergie sonore, tout en constituant un clin d'oeil à son passé d'organiste confirmé.
Poussant les field recordings dans de plus lointains et subversifs retranchements à travers une mise en abîme, le matériau de base se fonde sur des orgues à tuyaux de 16 pieds joués et enregistrés par lui dans diverses églises à Cornwall.
Les photos illustrant la pochette parlent d'elles mêmes en ce qui concerne l'atmosphère de l'oeuvre. Sur la pochette arrière, la reproduction d'une peinture assez connue de William Turner "Snow Storm, Steam Boat Off a Harbour's Mouth…" qui entretient le récit sans doute imaginaire selon lequel il s'attacha la nuit au mât d'un bateau à vapeur afin d'observer des conditions météorologiques extrêmes.
…Une mer tourmentée, une vraie conspiration des éléments, un sens du danger palpable immédiat…
La pochette avant représente une histoire beaucoup plus personnelle, et c'est aussi une trouvaille prémonitoire :
une ancienne photo du grand-père de Curgenven surfant autour des années 20.
…Une sombre couverture de vagues crayeuses à sillons, d'écume sauvage et de rides perpétuelles, une figure fantôme en équilibre, le vertige de l'infini…
…Un formidable instantané…
Ensuite arrive le titre "Sirène" : un dispositif d'alarme ou plus vraisemblablement la créature mythique charmant quelques marins perdus pour les entraîner dans l'abysse…
Et oui, "Sirène" est abyssal, faisant étalage d'une force énorme à l'oeuvre…en fait, il m'a été confié que "Sirène" a vu le jour quasi incidemment en remixant certaines composantes destinées à un second LP devant être publié plus tard cette année, et reposant sur la vision de Curgenven d'une terre australienne profanée, disloquée.
Sur la face A "ressuscitant de l'étreinte de la Sirène" démarre avec un appel plaintif insidieux remontant des profondeurs marines, et se télescopant avec le crachin océanique…écume fendue… "Cornubia" remue. Un impitoyable balayage vers le haut où des scories de traits d'orgue extirpés des couches distantes surgissent pour rencontrer les contours d'un nouveau monde…
Curgenven propulse les sons le long de longues cheminées de détresse, au sein de l'espace ouvert, cherchant la confrontation physique, augmentant le sentiment de pression, nous entraînant dans un vortex de vives sensations…
Pas de décoration futile, d'effets creux, de l'immersion complète où l'on doit se frayer un chemin dans un noyau faussement dense et compact.
Une navigation en amont en ligne droite vers la source d'un élan primaire…A nouveau, pas de frontières ou de claires limites, mais un schéma où le corps subit, les tympans vibrent, l'esprit voyage dans un territoire aride mais très fertile…
Sur la face B, il y a le retour d'une lamentation tachetée de minimes et texturés débris audio, et d'un sifflement érodant destinés à percer la carapace de toute indifférence.
Une parfaite distillation et pénétration primordiale au travers d'un amas de tentacules d'orgue "dronesques"…
"Sirène" avertit autant qu'il stimule, un éclaboussement vital pas pour les timorés, et quand une courte pause de quasi silence s'immisce, les notes qui suivent résonnent comme une malédiction pour toutes les contrées impunément ravagées…
"Sirène" nous parle du non vu, du flux sous la surface…Il sculpte une masse générant ses propres harmoniques spectrales, agissant comme un puissant relais. Une intensité à laquelle on ne peut échapper…une bouée de survie…