Between dawn and dusk
SABRI MEDDEB
(self release 2013)
Review by Daniel Crokaert
Settled in Brussels since about ten years, Sabri Meddeb, from Tunisian origin is not exactly a newcomer…he has already mixed with some other well-known artists, notably Michael Northam, and Sachiyo Honda with whom he collaborated in the common project Hokuro. Other than that, he is an autodidact musician very concerned with the cultural melting pot and keen on the input of other art forms in his own music…
Blessed with a sort of tranquil force coupled with a nonstandard sensitivity, his musical universe is the result of a work on himself leant on the memory resurgences, a perpetual search for this fragile balance between the inside and the outside via a series of questionings…
"Between dawn and dusk" is of course supposed to suggest a slow transformation, a passage from dawn to dusk, but it's the night which prevails…
to which journey does Sabri invite us ? To the one of introspection through a quasi Symbolist Nature…
like a sharp walker/listener, he leads us into the centre of some primordial rocking movement which all at once saps our wakening,
and stimulates it to something else.
While the first piece Between dawn and dusk "cycle of night-twilight" opens, one captures the quivering of vegetation, the trembling of leaves on the dry structures of the wood, and the nagging nocturnal chant of cicadas…but also, the chirping of a few birds and far away barks which give depth of field to the scenery…
Nothing is more difficult than to abstract ourselves from what surrounds us, to simply be in the flux, in this vibrancy of life.
And here, Sabri Meddeb manages to captivate his audience by grasping the strength of a moonbeam, an ounce of wind, the carrier air, of all those murmurs of plant and animal life…
If only we surrender ourselves to it, the resulting landscape is of a resounding truth, not so much in its fidelity to the real, but in its content, its introduction to the world…
The second central and much shorter track is also the most musical one…
it uses the same ingredients, while weaving on the top of it an ethereal drone made of delicate manipulations of singing bowls, and progresses in waves which end up dying naturally like a breath going out…
Then returns the atmosphere of the first composition in Reflection contemplation where modelled on a large natural orchestra, emerges a blend of a firmly cosmic scope which dwells at length on the weighty Mystery of Life without ever piercing it…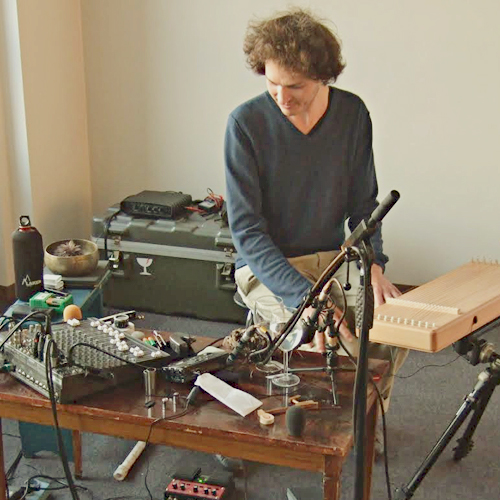 [Sabri Meddeb]
– Translation to French-
Sabri Meddeb, d'origine tunisienne et établi à Bruxelles depuis une dizaine d'années, n'est pas tout à fait un nouveau venu…il s'est déjà frotté à quelques autres artistes de renom, dont notamment Michael Northam et Sachiyo Honda avec lesquels il a collaboré dans le cadre d'un projet commun sous le nom de plume Hokuro. Sinon, il s'agit d'un musicien autodidacte très impliqué dans le métissage culturel, et féru de l'apport des autres arts dans sa propre musique…
Doué d'une sorte de force tranquille doublée d'une sensibilité hors norme, son univers musical est le fruit d'un travail sur lui-même appuyé sur les résurgences mémorielles, une recherche perpétuelle de cet équilibre fragile entre l'intérieur et l'extérieur à travers une série de questionnements…
"Between dawn and dusk" semble évidemment suggérer une lente transformation, un passage de l'aube au crépuscule, mais c'est la nuit qui prédomine…
A quel voyage Sabri nous convie t-il ? A celui de l'introspection au travers d'une Nature quasi-Symboliste…
comme un promeneur/écouteur aiguisé, il nous mène au centre même d'une sorte de bercement primordial qui tout à la fois sape notre éveil, et le stimule à autre chose.
Lorsque s'ouvre la première pièce Between dawn and dusk "Cycle of night-twilight", l'on capte le frémissement de la végétation, le frisonnement des feuilles sur les structures sèches du bois, et le lancinant chant nocturne des grillons…mais aussi le pépiement de quelques oiseaux et de lointains aboiements qui donnent une profondeur de champ au décor…
Rien n'est plus difficile que de s'abstraire de ce qui nous entoure, de simplement être dans le flux, ce pétillement de la vie.
Et ici, Sabri Meddeb parvient à captiver son audience en saisissant le pouvoir d'un rayon de lune, d'une once de vent, de l'air colporteur, de tous ces murmures de la faune et de la flore…
Pour peu qu'on s'y abandonne à son tour, le paysage sonore résultant est d'une criante vérité, pas tellement dans sa fidélité au réel, mais dans sa teneur, son introduction au monde…
La deuxième piste centrale et beaucoup plus courte est la plus musicale…
elle se sert des mêmes ingrédients, tout en tissant par dessus un drone éthéré fait de délicates manipulations de bols chantants, et avance en ondes qui finissent par s'épuiser naturellement comme un respiration qui s'éteint…
Puis revient l'univers de la première composition dans Reflection contemplation où, à l'image d'un grand orchestre naturel, se dégage un mélange résolument cosmique qui s'appesante sans le percer sur le lourd Mystère de la Vie…