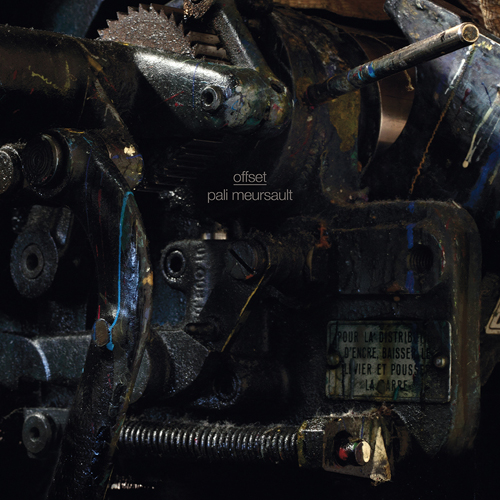 Offset. PALI MEURSAULT
(Doubtful Sounds 2013)
Review by David Vélez
From the liner notes
This work is the result of a research about the mechanical sounds of printing machines. I was invited in two different printing workshops in Grenoble and Paris, where I've been listening and recording their rotary presses very closely. 'Offset' gathers a series of compositions created with this sound matter, electroacoustic variations exploring the rhythms, cycles, textures and musicality of the machines. A work that stands on the ambivalence between the alienating and the musical machine, and careful to lose any assumption…
___________________
'Offset' is composed by eight individual pieces.
On 'Cycle 1' the rhythmic patterns are random and complex drawing to a somber emotion. They sound like desynchronized machines that sometimes match and interact with harsh colorless grace.
On 'Cycle 2' the textures vary from more wood-like to metallic-like.  Also the relations created by the different magnitudes of the occurring events maintain a tension between the more soothing moments and the more overwhelming moments.
'Cycle 3' is a piece of 'epic' narratives and emotional tensions that stretches and breaks up the moments. To me this piece is one of the highlights of the whole release, conscious and successfully built.
Sometimes 'Cycle 4' sounds like jungle or break-core music; a short fun to listen and an easy to get by piece.
'Cycle 5' is a recording-based evolution of something similar to what avant-garde electronic acts like Autechre and Phonem were trying to do in terms of rhythm thirteen years ago. Syncopated rhythmic mechanical repetitions that go on strongly with no pause. Through the end the pulse become harsher, louder and chaotic.
'Flux 1' is another piece of this release that I find special; here the rhythmic patterns become more 'harmonic' and the background and foreground forcefully merge in a very fortunate way; this is the more atmospheric and environmental piece of the release.
'#' is a strange piece very quiet and sine wave-like that sort of breaks the release structure.
'Offset' goes out on a high note with 'Flux 2'. Here the exploration of rhythm is open to the point we wonder how much manipulation of the recordings was done in terms of pitch and speed. The piece's narrative structure goes from joyful to somber creating a beautiful lasting tension.
To close this review I would like to say that 'Offset' presents a fortunate, risky and refreshing approach to the compositional work with field recordings. The relation that Meursault established with the subject and the formal approach he gave to it produced a very successful and rewarding work.
[Pali Meursault]