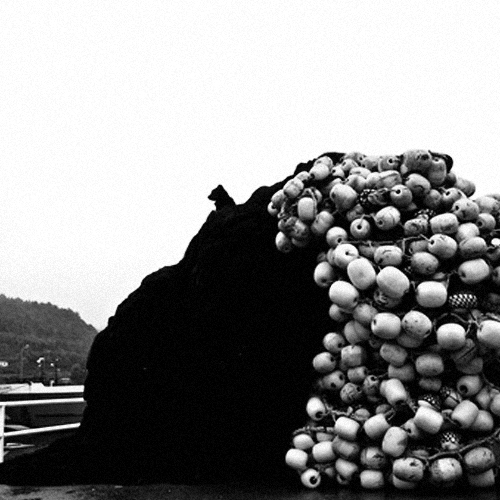 Niebla.
MONTE ISOLA -Myriam Pruvot-
(Wild Silence 2013)
Review by Flavién Gillie
L'île est la figure centrale de cet album paru sur le label Wild Silence.
Pour une raison sémantique tout d'abord, ainsi le projet Monte Isola de Myriam Pruvot est le nom d'une île italienne. Puis d'un continent à l'autre, cette création sonore doit son nom à un séjour sur île chilienne, Niebla en est son nom.
Dès la première piste du disque Myriam Pruvot nous plonge dans une ambiance portuaire, mais loin de s'en tenir à l'enregistrement de terrain, elle évoque avec brio ses souvenirs sonores et leur adjoint des strates, boucles de guitare pour mieux les magnifier.
On se trouve dès lors dans une géographie délicate, un va et vient maitrisé entre le lieu tel qu'il a été vécu et son interprétation intime que l'artiste nous en donne à entendre.
Chaque plage du disque est une archive de cette vie insulaire, nocturne sans doute quand seul le ressac fait grincer un bateau et qu'au loin on entend quelques chiens, le chant de Myriam Pruvot pourrait avoir été enregistré en direct qu'on n'en serait pas étonné, on l'imagine voyageuse sans sommeil, offrant ainsi à l'île son écho de chants issus d'une mythologie que seuls les insulaires connaissent encore.
Et quand en journée la présence des hommes revient pour les travaux d'entretien sans cesse à recommencer, résistance tenace contre des éléments implacables, l'artiste observe, enregistre des conversations quotidiennes, témoignage discret et précieux d'une activité fragile, disparaissante.
Gilles Deleuze est cité dans le dernier morceau, les îles sont d'avant l'homme. Gardons-nous d'une interprétation hâtive, glissons simplement dans notre écoute la convergence du mot désir. Celui d'une rencontre, avec l'île, avec les hommes qui y vivent car tout est vie dans ces prises de son, même la solitude de Myriam Pruvot se retrouve infiniment peuplée, seule avec une meute minimale, de sons, d'instruments, des cordes qui s'étirent, des nappes comme suspendues, dans un équilibre qui n'est pas la syncope, mais la rencontre.
On se souvient par ailleurs que le philosophe n'aimait pas tellement les voyages, les voyageurs, auxquels il préférait de loin les nomades. Il y avait cependant à ses yeux quelques exceptions, Francis-Scott Fitzgerald, JMG Le Clézio, Marcel Proust. Et après de nombreuses écoutes de Niebla, on se prend à penser que Gilles Deleuze aurait peut-être bien aimé le voyage de Myriam Pruvot.
[Myriam Pruvot]
Translation to English -by Sismophone-
The island is the central character of this album released on Wild Silence.
For a sole semantic reason, the Monte Isola project of Myriam Pruvot is named after an italian island. But then, from one continent to another, this sound creation owes it's denomination to a sojourn on a chilian island, named Niebla.
From the very first track of this disc, Myriam Pruvot plunges us into a harbour atmosphere, but far from restraining herself to field recording, she brilliantly evokes her sound memories and add layers of guitar loops to better intensify them.
Then one moves in a delicate geography, a skillfull back and forth between the place as it was experienced and it's intimate interpretation that the artist offers to our ears.
Each track of this disc is an archive of this insular life, probably nocturnal when some boat creaks due to the backwash and remotely one hears a few dogs, and having recorded live the singing of Myriam Pruvot would not be surprising, one figures her as a sleepless traveler, offering the island her echo of songs coming from a mythology that only islanders still know about.
And when during the day the presence of men is back for maintenance works to ever start again, persistant resistance against merciless elements, the artist observes, records daily talkings, discrete and precious witnessing of a fragile activity, dying out.
Gilles Deleuze is mentioned in the last track, the islands are from before mankind. Let us step back from a too quick interpretation, but let us slide merely in our listening the convergence of the word desire. The one of an encounter, with the island, with it's inhabitants as all is life in these sound recordings, even Myriam Pruvot's solitude ends infinitely populated, alone with a minimal pack, of sounds, instruments, stretching strings, suspended layers, in an equilibrium that is no syncope, but encounter.
One recalls also that the philosopher did not really enjoy travelling, travelers, to which he by far preferred nomads. There were though to him a few exceptions, Francis Scott Fitzgerald, JMG Le Clézio, Marcel Proust. And after numerous listenings of Niebla, one could even think that Gilles Deleuze may very well have enjoyed the trip of Myriam Pruvot.