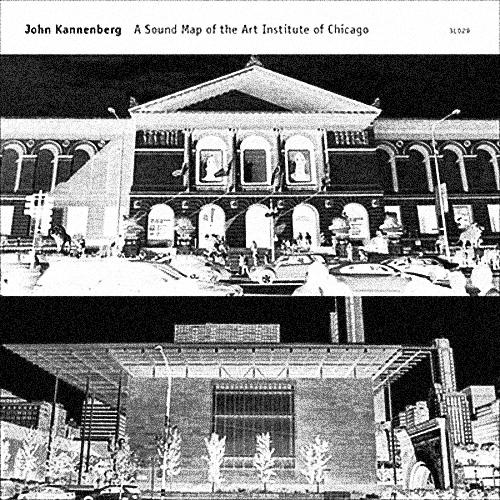 A Sound Map of the Art Institute of Chicago
JOHN KANNENBERG
(3Leaves 2014)
 Review by Cheryl Tipp
Recording the "active sounds of history". This lies at the heart of John Kannenberg's ongoing interest in the sonic environments of cultural heritage institutions. As contemporary visitors interact with historical objects, how do these fleeting relationships manifest themselves in the soundscape? How do they lend themselves to the overall "sound" of a museum?
Following on from his 2011 release 'A Sound Map of the Egyptian Museum, Cairo', Kannenberg puts these questions under the microscope as he turns his attentions to the Art Institute of Chicago; one of the largest and oldest art collections in the United States, representing over 5,000 years of Human artistic expression and holding 300,000 works. As we move through the sound map, a 1 hour collage of recordings made in various galleries throughout the building, we get a real sense of the scale of this historic institution. Though not able to visualise or hear the historical artefacts themselves, the recordings succeed because they allow us to imagine. To envisage the space and the design based on our own experiences of similar museums around the world. The accompanying insert gives location pointers, much like a traditional museum map – Ando Gallery of Japanese art: Gallery 109, American Gothic: Gallery 263, African Art: Gallery 137 – helping to feed our imaginations even further. A series of floor plans reinforce the sheer magnitude of the building.
Kannenberg also focuses on the sounds of the building itself; clunking elevator doors, squeaking floorboards, a buzzing fluorescent sign, a humming exhaust fan. Akin to a rumbling stomach or a clicking joint, these little sounds remind us to think of the structure, stoically guarding various cultural treasures for future generations to experience, question and enjoy.
"I found myself drawn to situations in which I played an audible part"
For me, this sentence represents the greatest success of the sound map. The fact that we can hear Kannenberg, walking through the galleries and interacting with the staff, gives the whole piece a welcoming, familiar feel. Almost as if we are walking at his side, taking in the paintings, sculptures and photographs, pausing every now and then to listen to a gallery talk, observe a drawing class or have a spot of lunch.
'A Sound Map of the Art Institute of Chicago' is a well-curated sonic journey that instantly engages the listener. Detailed and varied, the composition has reminded me not only of my own love of museums, but also of the huge potential they offer the visitor. Through his work, Kannenberg is beginning to explore a fascinating aspect of the museum experience, bringing sound to the forefront and encouraging others to tune into the sonic delights that these mighty institutions have to offer.
[John Kannenberg]
John Kannenberg website
3Leaves website